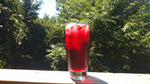 Welcome to our Summer Sips blog series, where we feature our most delicious options for the hot summer weather. I have been having a blast sampling these teas to give you the scoop on my favorites. There's something for everyone, whether you need a caffeine boost under the sun, or need a soothing cool option to pair with a breezy evening.
How To Make It
Making iced tea has never been easier with this tried and true method from Premium Steap!
Simply follow our directions for brewing hot tea but double the amount of tealeaves. Steep according to our directions and pour the concentrate over ice- this will flash freeze the aroma and taste.
You can also try the cold brew method. Use the same ratio with filtered cold water and let steep in the fridge for 6-12 hours. This method is a bit more involved but is a great way to avoid bitterness. Serve with sugar syrup for added sweetness and enjoy!
Fruit Tea
Fruit teas are so much fun to add to any summer party or meal. Our fruit teas are delicious blends with subtle natural sweetness. Caffeine free, they are perfect for any time of day, and are great options for summer barbeques with younger guests.
Blueberry/Blackberry

Mango Peach

Orange/Cherry/Pineapple/Coconut
Black Tea
Need to cool down? Need to wake up? These black teas are absolutely perfect for your hot summer mornings! Try out our plain black teas for the caffeine kick you need and indulge in our flavored blends for a pleasant fruity twist.
Plain
Korakundah

Kenilworth

House Darjeeling

Keemun Imperial
Flavored
Passion fruit & Mango

Organic Black Peach

Strawberry & Papaya
Green Tea
Make your own perfect cup of green iced tea! There's nothing that says summer vacation more than a healthy, ice-cold alternative to coffee. We have plenty of flavored greens for your personal fruity favorites, as well as plain teas that have subtle and nuanced flavors.
Plain
Organic Idulgashinna

Organic Sencha

Organic Gunpowder
Flavored
Blueberry, Pomegranate & Gojiberry

Papaya Pineapple

Sweet Lemon
White Tea
Delicate. Sweet. Smooth. These qualities define our selection of white teas, and we hope they will help define your cool summer evenings. As a bonus, white teas have minimal caffeine content, which makes them perfect for a late afternoon treat.
Organic White Peony

Organic Mango Pear
Oolong Tea
Looking for an iced tea that can help you get through a busy work week? Look no further than our Oolong teas. They are all wonderfully creamy, divinely smooth, and will give you the perfect boost to make it through the day, no sweat. Forever Spring Oolong makes a supremely delightful iced tea with it's notes of honey and pineapple!
Peach Oolong

Lemon Basil Oolong
Looking to try something new? All of these teas also serve as great bases for summer cocktails.
Tropical Arnold Palmer
Two parts Orange/Cherry/Pineapple/Coconut
One part lemonade
One shot of Vodka
Visit these restaurants listed below to try our teas with a twist.
Visit Han Dynasty in University City to try a fresh Sangria made with our Strawberry/Raspberry/Rhubarb tea.
Oyster House Café in Center City makes a delicious Bourbon cocktail with our Black Peach Tea