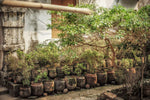 Tulsi, or Holy Basil, is an herb that has been adored by many cultures around the world, and is featured in our customer's favorite herbal blends here at Steap. It is honored as sacred in Hindu belief. Hindu families consider it good luck and often grow it in front of their homes. Tulsi is an adaptogen that has been around for hundreds of years. As an adaptogen, it is used to balance the body and help us to "adapt" to stressful moments in our lives. It is an excellent tension releaser, and is revered to many as "the elixir of life". 
Here at Steap, we don't look to sell cures, as we cannot say for certain if certain herbs have medicinal value. However, time and time again our customers and friends have come to love tulsi and drink it everyday. We have found three enriching blends of Holy Basil: Tulsi Ginger Orange, Holy Detox, and Tulsi Refresher, Tulsi Ginger Orange is a refreshing blend with spice and citrus. It is a sweet mix, and impossible to have just one cup. Holy Detox is our absolute best seller. It is soothing nightcap that features rosehips and lemon myrtle. Our newest Holy Basil tea is Tulsi Refresher. This tea has become especially loved by our patrons that look for allergy relief. It has bee pollen, a very rare element in tea blends. 
All three of these teas are naturally caffeine free. Each of their flavors and aromas provide for bedtime and daily relaxation. Lovers of these teas have called them both refreshing and calming. If you are having a tense afternoon or just finished a busy day, our Tulsi teas are here to guide you to a state of calm. They are also excellent for before or after your yoga practice. Tulsi is an herb that has been adored for hundreds of years. And whether or not there is any evidence to its medicinal value, there is no doubt that Tulsi is important to everyday life. It's  balancing nature is an essential part of many people's daily ritual across the world, and is available just around the corner at Premium Steap.