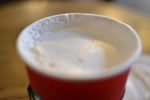 Here at Steap, our chai blends are prized and a favorite in the fall season. They are enjoyed any time of day as we have both caffeinated and herbal blends. Try our chais alongside your favorite fall dessert, such as pumpkin pie or gingerbread. And don't forget the milk and honey if you want to add a little sweetness to your daily ritual!
The history of chai is uncommonly known. The word "Chai" is associated with the mixing of black tea with Indian spices, but the term itself is simply the Hindi word for tea. As the English governed over India, they noticed that although like the British, tea was an essential part of their culture, unlike the British, Indian citizens disliked black tea. English tea companies began promoting black tea in India to provide prosperity, and Indian families adapted by adding their own spices and herbs to match their culture's tastes. 
We have a shelf full of unique blends of chais that range from invigoratingly spicy, to soothingly sweet. Our most popular is Masala Chai, a broken Assam blended with ginger, cinnamon, cardamon and vanilla. Our Spicy chai speaks for itself, and is additionally flavored with aniseed and black pepper! Quite different from the other is our cherished Wedding Tea, a sweet tea with Vanilla similar to tea traditional served at Indian weddings. Dirty chai, mixed with whole coffee beans and cinnamon, is my personal favorite! 
If you would like to create your own blend of chai, gather your preferred spices and combine it with a strong black tea. Of course,  good Assam always pairs well with Indian spices. The combination will create an authentic robust flavor.  For a hearty chai, use our North Sea or Builder's blends. These teas brew strong and are therefore perfect for a spicy morning treat. 
Please find below an easy and delicious recipe for a homemade Chai Latte and Chai Meringue Cookies! 
Simple Chai Recipe:
2c milk, 1tbsp Chai. Bring to a boil covered and then simmer very low for 5 minutes. Strain and sweeten to taste. Experiment with different spice combinations at different times of the year.
Chai Spiced Meringue Recipe: 
Follow this link for a delicious spicy treat!
http://premeditatedleftovers.com/recipes-cooking-tips/chai-spiced-meringues-with-pecans/