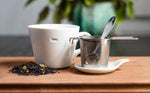 Get Up and Go!
There is something special about a morning cup of tea. It sets the tone for your entire day, and brings focus, calm, and energy. Having a morning ritual of drinking tea sets you on the path for a great day. The quality and taste of the tea makes a big difference. Not only is it crucial to find the right tea, you must also find that right cup or teapot that makes you excited to start your day. 
For the mornings, our best sellers are Black tea. These teas are a perfect balance of strength, and are a great alternative to highly caffeinated coffee. They still cup strongly enough to give you the boost you need to get going! There are so many black teas to explore before picking the perfect one (or two!) for you. Our favorites for the AM are our Earl Greys and Black Blends. 
Our Earl Greys are adored all year. They are the perfect tea to cuddle up with in chilly weather. Favorites include Earl Grey Fancy, London Fog, and Lavender Earl Grey. Earl Grey Fancy is a robust mix of large leaf Assams and Indian teas with a particularly delicious Bergamot blend that keeps this tea flying off the shelves. London Fog, my personal favorite, is the classic Earl Grey blended with vanilla. Enjoy it with some milk and honey to really hit the spot. Lavender Earl Grey is a soothing balance of citrus-like Bergamot and relaxing Lavender.
For a more straightforward morning tea, try our Blended Blacks. Mt Everest is the top seller in Steap, and for good reason. It is a hearty mix of Chinese and Indian teas, and cups strongly every time. French Breakfast is a delicious blend of black tea and vanilla bean, and is the proprietary blend we make for Parc Restaurant. Our newest blend is Builder's Tea. This tea is already a favorite, consisting of broken assam leaves to give you that boost you need to get out the door. Try all these teas on their own or with milk and honey. 
Explore our website to find the teaware that matches your ritual. For a luxurious morning, particularly one spent with others, you can find the perfect set of tea pot and mugs to fit everyone's needs. We have a wide array of cozy and chic teapots that go perfectly with a good book or lovely conversation. If you're looking for one perfect cup before you start your day, our Essential Brew-in Mug deserves it's name, allowing you to make your tea right in the cup. Make your tea at your own pace and find what works for you.
If you are looking to explore these options, we are happy to send you samples. We include a free sample with every purchase, so give us a call or put a note in your order if you want to try something new along with your favorites!