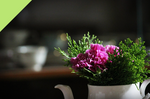 Flowers are soon to be in full bloom with the arrival of Spring! And we are not just talking about the flowers in your backyard. We are talking about floral inspired teas! Leaves are common, but not the only plant used in teas. The use of flowers are more common than you think.
People love floral inspired teas for the same reason they love flowers - the aroma. It's scent as a tea is just as strong as it's natural scent. And in terms of taste, people may not associate flowers with something that is eatable, but it is. Butterflies and birds are not the only species that can enjoy a flowers sweet nectar juices, humans can too! Floral teas taste varies from very sweet to pretty mild or pungent. But it all depends on the type. So don't be a shrinking violet, read below for specific flower types and find the perfect floral tea for you!
Hibiscus
Hibiscus is generally popular in the Caribbeans. It's a deceiving cup of tea, as the smell of hibiscus is subtle until you taste it. The taste tends to be bittersweet and strong. The tart, cranberry-like flavor of hibiscus is great alone if you can handle it. Or you can balance it with a fruit like strawberry or apple like our Organic Strawberry Hibiscus below:
Organic Chinese Green tea blended with Strawberry, Apple, Hibiscus, Rosehip and natural flavors. USDA Organic. Excellent hot or cold!
The tart, cranberry-like flavor of hibiscus is great alone or added to your other favorite teas.
Lavender
When it comes to making tea using lavender, some people find it too strong of an herb to use on its own. This flower has a distinct and pleasant smell that is associated with creating a relaxed state, making it a great bedtime tea to help put you into a restful and peaceful sleep.
A nice twist on the classic earl grey. Indian Nilgiri flavored with citrus-like oil of bergamot soothed with lavender blossoms. A fragrant and floral cup.
A lovely black tea with soothing lavender. Creamy and flavorful.
Rose
Don't just stop and smell the roses - enjoy them in tea form! Roses in teas tend to be highly fragrant. The tea generally tastes like the rose's fragrance, so the taste can vary depending on the roses used. Most rose teas have a prominent tangy taste.
A revitalizing blend of black tea, bergamot, and rose petals.
An artful combination of sweet, fruity, fresh and fully flavored spring fruits: strawberry, elderberries and rose. Delicious hot or cold. 
Chamomile
Chamomile is a very popular tea that you have heard of more so around winter season. As it makes a great hot cup of soothing tea. It's highly fragrant with a sweet, apple-like scent, with a mild taste.
Whole Egyptian Chamomile flowers give this tea a fresh taste a delightful floral aroma.
Jasmine
Then there's jasmine, which might not be the most popular flavored tea. However, Jasmine is a fragrant flower, normally found in green, white, black, or oolong teas. China has a long and famed history with tea, and jasmine is one of the most popular types to emerge from this ancient nation.
Traditionally Jasmine flower scented 3 times then hand rolled into an olive shape. A strong floral experience.
A top-grade Jasmine comes from the Fujian Province of China. Produces a floral, sweet cup.
It's possible for you to make your own cup of tea with flowers, but it's not recommended. To make floral tea you have to use only healthy flowers that are free of chemical fertilizers, herbicides or pesticides. And definitely rinse them before use. We recommend if you use flowers, use dried flowers. They are easier to store and have a longer shelf life.
As we have listed, we have a variety of teas with flowers to get your spring season started off right. Explore more of what we have to offer by visiting our website at www.premiumsteap.com.