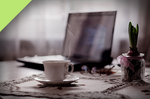 Get fresh news and updates about exciting new offers from Premium Steap directly in your email inbox!
Email is still one of the most effective ways to reach out to customers and we understand why. Why wouldn't you sign up to hear about sales, discounts, contests and new products? We understand that you may have a ton of emails in your inbox day to day, but not all emails are offering beneficial and informative content. Lack of time can also be a reason to signup for our newsletter. Our customers may not have time and an email is the perfect way to get brief information without being a complete distraction to your day. You will get informed on new products, contests and sales and can opt out of our emails at any time. And re-subscribe at any time as well. We have listed 3 reasons why you should subscribe to our newsletter below:
1. Get In The Know
If you love our teas and teaware, you would want to be informed on any new products or returning products in stock. If you notice that one of your favorite teas are out of stock, subscribe to our newsletter and we will inform you on its return. 
2. Informed On Contests
From time to time, we offer contests for our customers and followers. Everyone loves the word free. An with our contests and promotions, we offer our customers the opportunity to win free teaware, tea and gift sets!
3. Sales & Discounts!
Be first to get informed on sales and discounts! Sometimes our sales are for a limited time or limited quantity. You want to make sure you are the first to be informed to receive the discount.
To subscribe to our newsletter, you can do so by two ways. First, if you are in the middle of placing an order, under the "Customer Information" section you can provide your email and check the "Keep Me Up To Date On News And Exclusive Offers," box. See below:
The second way to subscribe to our email is by going to our homepage www.premiumsteap.com and providing your email in the "Signup For News" section. Then press submit.  
Besides our newsletter, if you are more active on social media you can stay up to date with us on Instagram, Facebook and Twitter!