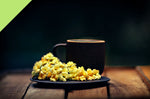 It's obvious why spring is favored amongst tea lovers. Seasons change and so do our cravings. Spring brings light wind, refreshing fragrances, and the smell of rain. Our taste then shifts to more earthy, lighter and fragrant teas. Spring teas actually taste and smell like spring! Luckily you can experience spring right in your tea cup. We have captured the season in our newest spring teas! These new teas are guaranteed to have you coming back for not only the taste, but the irresistible smell as well. Give these new teas a whiff.
This black tea is delicately flavored with fresh fruits strawberry & peach. Just the aroma alone will take you away to memories of spring. Pour your steeped tea over a some ice for a fresh taste.
Refreshing combination of sweet, fruity and soft. Excellent combinations of blackberry, strawberry, raspberry and figs. No need to overload on sugar. This tea is naturally sweet and perfect hot or iced.   
Organic green tea with clean and lively bright taste. Good hot or makes excellent as a nice cold glass of iced tea. Have it anytime of year!
This Japanese favorite is caffeine-free and comes with a subtle distinct sweetness. Delicious hot or cold! Contains Gluten.
Trying our new teas are perfect for assisting you with your spring cleaning! Out with the old and in with the new. Pack away your winter favorites and prepare for spring with these perfect brews. Explore our website at
www.premiumsteap.com
to explore our variety of teas.