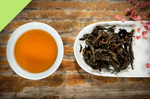 Are you looking for places to travel this summer? Well why not go to a place that produces your favorite beverage and has growing economically because of it? The place we are referring to is called the Hetaoba Village also now known as the "first ecological tea-growing village in West China." It lies along the Yangtze River (Asia's longest river). It's a poor and remote village in Meitan County, Southwest China's Guizhou Province. Even though it's economy has been at the low end, the town has made a way out of poverty by growing tea and developing tea-themed tourist attractions.
The village, on the upper breaches of Meijiang River, was before a poverty-stricken area where people had to cross hills and valleys to get drinking water. It wasn't until 1983 that the village's Party chief (He Dianlun) motivated locals to get out of poverty by using tea production.
The village's new Party chief Chen Yanming, said growing tea has brought prosperity to the village and upgrading the industry has enabled every family to own, operate and prosper from their own tea plantation.
The village currently has 868 tea farmers and 12,000 mu (800 hectares) of tea plantations, while four tea companies are the provincial production leaders. The village produces more than one million kilograms of dried tea a year that sells well in China and is also exported to Europe. In 2016, the village's tea industry had a total value of 224 million yuan, with an average annual income for farmers of some 16,400 yuan.
Now known as No.1 Tea Ecology Village in West China, Hetaoba has also developed eco-agriculture tourism, taking advantage of its green mountains, clear waters and pillar tea industry. The village receives more than 50,000 tourists each month while tourism revenue last year reached 12 million yuan.
So plan your next trip to experience the rich plantations of Hetaoba. If you are not able to go to china, you can still experience the richness of China's teas right from your teacup. Go to our website and check out our new selection of Chinese spring teas!