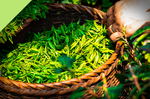 You don't need Santa, snow or a Christmas Tree to make it the holiday season. It's July, but we have sales, and gifts to make you think that it's the holiday season. If you missed our iced tea sale where you can find 15% off our best selling iced teas we still have other ways to save! We also launched our new Iced Tea Beginner Set to make it easy to brew if it's your first time. The set comes equipped with a 50 oz pitcher that includes a built in infuser. You are then ready to steap with the two 4oz teas that come with the set ( Organic Korakundah & Blood Orange Pear Fruit Tea).  
We also have summer gift ideas that can be great for any summer event. Whether you are going to a bridal shower, cookout or family get together, you can find a gift for giving. See below for some of our popular summer gifts and possible gift occasions.
Iced Tea Beginners Set - New
If you are new to brewing iced teas, this set is perfect for you! Make iced tea easily with our 50oz pitcher (infuser included) and two 4oz teas: Organic Korakundah & Black Mango/Peach Fruit Tea
Summer Occassion: Hostess Gift, Wedding Gift, Get Well Gift
Summer Special - New
Summer has arrived! Perfect time for Iced Tea.  All teas are good hot or iced. Buy 6 get 1 free.
Black Strawberry/Peach
Organic Korakundah Nilgirl
Green Honeydew Citrus
Green Spring Melody
Black Currant/Hibiscus (caffeine free)
Orange Grapefruit #1 Best seller (caffeine free)
Summer Occasion: Wedding Gift, Get Well Gift, Summer Entertainment Gift
Ice Tea On the Go package
Functional glass thermos for iced tea. Easy to brew - just add tea in filter in bottom. Add water and ice. Package includes one thermos plus two of our most popular teas for iced: Spring Melody & Orange Grapefruit
Summer Occasion: New Job/Promotion Gift, Thank You Gift
Essential Summer Iced Tea Kit
Time to soak up the sun drink up some refreshing iced tea!
This 50oz iced tea pitcher is easy use for either cold or hot brewing. Comes with detailed brewing instructions. A double ring silicone gasket ensures lid from falling off when serving. The 0.5 mm hole stainless steel filter catches tea leaves. Made from true borosilicate hand blown glass. Package includes two - 4oz teas: Organic Korakundah & Orange Grapefruit)
Summer Occassion: Wedding Gift, Summer Entertainment Gift, Mother To Be Gift
We hope that your summer is full of traveling, entertainment and fun with your loved ones and friends. Making decisions on gifts for those spontaneous occasion should be easier with our products and sales! Visit our website to explore: www.premiumsteap.com