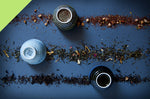 This time of the year, we are bombarded with all sorts of pressure to go out and spend a fortune to show love for that special someone in your life. From chocolate to jewelry to romantic dinners, who doesn't enjoy a nice Valentine's Day gift? This is the season for giving, but thanks to Premium Steap, you don't have to give a fortune. Our Valentines Day inspired tea, samplers and gifts make the perfect choice for yourself and significant other.
We want to show how much we love our customers by providing the most lovable teas! Our tea variations are add a passionate twist to classics. From our new St. Valentine tea which blends black tea with aphrodisiac ingredients like strawberry, raspberry and even rose! A lot of you will be expecting sweets this holiday. But instead of buying fancy chocolates, we also offer a Dark Chocolate tea that combines broken cocoa bits and natural flavoring.
If you are still not convinced, check out more of our Valentines Day options below:
Valentines Day Teas
St. Valentine
This tea is the perfect way to say "I Love You!" Feel and taste the love this season. This is the perfect blend of black tea with strawberry, raspberry, rose and vanilla.
Dark Chocolate
The combination of broken cocoa bits, coriander, and natural flavoring will leave you as pleased as if you'd eaten a square of dark chocolate itself.
Strawberry Rose
An artful combination of sweet, fruity, fresh and fully flavored spring fruits: Strawberry, elderberries and rose. Delicious hot or cold. Also blended with apple, pineapple, cherry, black salsify pearls, cranberry and natural flavoring.
Keemun Rose
A lovely blend of Keemun Chinese black tea and rose petals. It yields a strong sweet cup with a hint of floral notes.
Valentines Day Sampler
Love is in the air and can also be in your cup this Valentines Day with our Valentines Day Sampler. Don't just stay committed to one tea, try several of our most romantic blends.
Sampler includes - 4 - 2 oz sampler
Valentines Day Gifts
Our desire this Valentine's day is for our customers to share love, within you and around you.
We offer a Valentine Sampler which includes a romantic "love" canister. This gift is perfect for tea enthusiasts! It's delicately covered in red tissue paper to keep it as a surprise on the special day.
As you have seen, we have a wide
selection of sophisticated loose leaf teas that make that someone special feel even more special. Choose the perfect gift that is sure to delight your special valentine. Visit our website to explore more of our loose leaf tea options on any day and occasion.