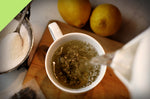 The tea fountain of youth has been growing. Approximately four in five US consumers drink tea, with Millennials being the most likely. This reflects statistics that have shown 87% of millennials drink tea. Why is this so? Well it's no surprise that Millennials have been accepting of change, uniqueness and expression. And with the consumption of tea, you get the rareness, benefits and personality found in each cup. We have listed more specific reason why the youth has embraced tea in all forms and why you should do the same!
Special-tea
Tea has been taking over your neighborhood grocery stores, cafes and specialty shops with it's outlasting trends from boba, kombucha and green tea. Americans have caught on to teas benefits of this very ancient beverage and Millennials are much more adventurous about exploring the expansive world of tea. Millennials love what's "different" and "special." New age tea-lovers are now seeking specialty shops and high-end tea brands similar to the way we experience hipster coffee.
Availabili-tea
Teas are increasingly more available to us than they were for our parents and grandparents. Because it's easier to trade tea globally, it has also become more affordable. And affordability and availability are important for Millennials as they are much more frugal than past generations. Hence tiny homes, eco-friendly cars and illegal music downloads.
Varie-tea
You can now buy tea to suit your mood and cravings. People are no longer limited to basic tea flavors, but exotic blends from all around the world. Millennials love experiencing different cultures, and with tea, you can travel to China, Africa, or India from just a single cup of tea.
Not only are people limited to the type of teas they drink, but how they drink it. Years ago, tea was an at home tradition. But now tea has changed with the times. With tumblers, thermos and mugs, tea can be enjoyed practically everywhere!
It's time to turn over a new leaf. Whether you are young or old, try a new loose leaf tea flavor. It may just become your favorite cup of tranquili-tea! Take a look at the vartiety of tea we have to offer by visiting our website at premiumsteap.com.