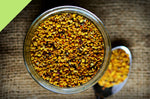 The bees are not buzzing yet, but you can still get a taste of spring even through the winter chill. Bees are not just good for honey, but they also produce bee pollen. It's a very unknown and unused sweetener additive. So Premium Steap wants to pull back the layers on its taste, benefits and how you can make the perfect cup of bee pollen tea!
Bee pollen is made by honeybees as a food source for young bees. Honey bees pack the pollen into granules with the assistance of uncommon brushes and hairs on their rear legs, and a sticky substance emitted from their stomachs. Holding two granules at any given moment they venture out back to the hive with their pollen that will in the long run be bolstered to their young. Beekeepers will append a little box fitted with a screen in the entryway of a hive. The screen enables the honey bees to enter, however it deliberately expels the little granules of pollen from their legs. The collected granules are then packaged, sold and become a key product in your kitchen cabinet.
There is a heap of nutritional benefits of consuming bee pollen and it's even considered as "nature's perfect food." But we believe it's main benefit is its taste. Because the health benefits of bee pollen have not been confirmed or supported by the medical community, talk to your doctor about any possible side effects before you take a bee pollen supplement. Bee pollen is known for producing allergic reactions in sensitive individuals. We encourage that you stop taking bee pollen if you experience any adverse side effects or reactions.
Now that you know what bee pollen is an its benefits and side effect, lets make some tea! First you will need the following:
INGREDIENTS:
1/4 tablespoon of local bee pollen
1 tablespoon of raw honey
1 tablespoon of turmeric
1 tablespoon freshly squeezed lemon juice
*The about measurements are made according to an 8oz cup of tea. If you are making a larger serving size, adjust measurements accordingly.
DIRECTIONS:
Boil fresh hot water.
Once water has been boiled, place bee pollen and turmeric into your cup or mug.
Pour water into cup or mug. Turmeric and bee pollen are known for sinking to the bottom of the cup so give the water a nice stir with a spoon.
Add your remaining ingredients of honey and lemon to give your tea some much needed sweetness.
That's it! Your tea is now ready to "bee" enjoyed!
If you are hesitant to try bee pollen or afraid that you might be allergic, you can take baby steps. We also offer tea that already has a low level of bee pollen in it.
It's our Organic Turmeric Comfort. This certified organic honeybush is mixed with rooibos, earthy turmeric, ginger, cinnamon, black pepper, and of course honey bee pollen. This tea is the best way to get acquainted with drinking pollen for the first time.
And it doesn't end there. Once you have your tea, you can sprinkle bee pollen over your favorite tea pastries. Try eating it with brownies, chocolate treats or even over popcorn! The possibilities are endless!