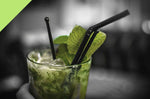 Happy First Day of Spring!
With the hot and steamy days that are ahead of us, it's time to start thinking of ways to quench your thirst. And there is no drink better than a glass of cold iced tea. Regardless of what you think, cold brewed tea is easy to make, and has a very refreshing taste.
There are 2 popular methods for making cold brew tea. The refrigeration method and the hot-to-cold method. Both results will give you a tasty pitcher of tea. But the biggest difference in the two methods is timing. The refrigeration method may take up to 4-12 hours to get a perfect pitcher brew. This all depends on how strong you would like your tea. However, if you find that your tea is too strong, you can easily dilute it by adding more water. With the traditional hot-to-cold method, you can get a pitcher of tea within a few minutes by steaping your tea regularly and adding ice cubes to cool it down.
How To Brew Teas Using The Refrigeration Method
Set Up: What's Needed
A Mason Jar or Pitcher (A Pitcher With Filter Is Preferred)
Tea Bags (1 per 8oz of Water)
Additional Garnish (Sweeteners, Sliced Lemon, Mint Leaves, Sliced Cucumber)
Select Your Tea
We have a variety of loose leaf teas for you to choose from. See below for our top tea suggestions for iced tea.
An excellent citrus blend of orange, grapefruit, eucalyptus, hibiscus, lemongrass, bits of tangerine, carrot, beetroot, blackberry leaves and natural flavors. Great hot or iced, for any time of year. Customers rave about this tea and are always coming back for more!
Aromatic blend of delicate apricot and a touch of mango. Absolutely perfect anytime hot or cold. Blended with sunflower petal, rose, cornflower, safflower, combination of natural and artificial flavoring.
Perfect combination of lavender and lemon. Excellent for a glass of iced tea.
Select Your Container
Premium Steap has a variety of containers and pitchers that you can use to brew your teas at home and on the go. See here: https://premiumsteap.com/collections/teaware
Start Brewing
Depending upon the pitcher you use, you may have a filter already within your pitcher. This makes things convenient and leaves you with the simple job of pouring in your leaves and brewing. If you have a pitcher that doesn't have a built in infuser, you can use tea bags. In most cases, the ratio is 4 tea bags to make a 1 quart jar of tea; 8 tea bags for 2 quarts.
Enjoy!
Strain your tea and pour yourself a glass of tea and enjoy the taste! As you continue, experiment with different combinations. To explore more of our teas, visit our website at
www.premiumsteap.com
.