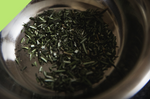 Does food and beverages have the ability to teach you something new? Table etiquette, social skills and manners are traits that we often claim to possess, but we rarely practice. However, elementary schools are picking up on the benefits of holding a tea party and kids are now using phrases like "thank you," "no thanks," and "please."
Tea Parties have been around ever since the early 1800's. Formal traditional tea parties are often characterized by the use of prestige utensils and table settings. The table is made to look it's "prettiest," with cloth napkins and matching cups and plates. This social gathering is topped by the pouring of tea and traditional etiquette. Depending on your culture, a tea party can vary from the type of tea you use, to the type of utensils and setting.
Tea can teach your kids and yourself about etiquette and table manners. And as one school teaches, these traits have not gone out of style. See how one recent elementary school in Kansas (Cottonwood Elementary School) is learning outside of the classroom with their pinkies up. See here.
So are you thinking about throwing a tea party of your own? To throw your own tea party, start by buying some teas. Premium Steap has a ton of traditional and exotic blends. This will also give you an opportunity to learn about each teas origin, taste and benefits!