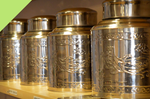 January is National Hot Tea Month. Which actually makes sense to have hot tea recognized in one of the coldest months of the year. Like any other month that gives national recognition, you want to make sure you are informed and celebrate all of it's benefits and impact. Which is just what Premium Steap has intended to do.There are plenty of ways to celebrate National Hot Tea Month this January, and we have rounded up some of our favorite ideas below.
Try Our Hot Tea Challenge
The best way to celebrate National Hot Tea Month is by… drinking hot tea, duh! And thankfully with Premium Steap, there is no shortage in supply. However, in terms of hot tea, some of our teas do a better job at keeping you warm this season than others. You will find our best warming teas below:
Fantastic organic herbal tea good with or without milk. Cozy, sweet and spicy blend of all organic ingredients: turmeric, ginger, coconut, chili, black pepper.  
Perfect chai for cold winter days. Intense, spicy and delicious. Serve it Indian style with milk and sugar or honey. Black tea with aniseed, cinnamon pieces, ginger bits, black pepper, cloves, chicory roots and natural flavoring.
Come In-Store To Smell Our Various Teas
At Premium Steap you can come in to our store and smell some of our quality grade teas before you purchase. The  second best method for deciding whether you like a tea of not is by smelling it. Our sense of smell is the strongest so use your nose to decide what teas catch your attention.
Learn Your Tea History
You are probably wondering why tea would need a whole month to be acknowledged, but tea is actually "the most widely consumed beverage in the world next to water," according to the Tea Association of the U.S.A.. And it's history is a vast as it's consumption. The history of tea varies from culture to culture, and cannot be summed up in a few words. But by learning about teas origin, we are sure your appreciation for it's past and present benefits will increase!
Try Something New
We know you love your basics. But to celebrate National Hot Tea Month, why not step outside of your comfort zone? If you are accustomed to drinking Black or Oolong, why not try Herbal or Rooibos. You may become surprised to taste how similar in benefits they are. Another way to sample our teas besides coming in-store, is by buying our sampler packages. We pre-prepare a mix of teas together in various themes. Our newest sampler is our Winter Sampler found here. This is a great way to jump into a different category of tea that you are not use to drinking. Herbal Tea Sampler, Chai Tea Sampler and Ginger Tea Sampler are some other alternatives just to name a few.
With its long history and distinct and unique taste, it's time to learn more about your favorite beverage. Celebrate it's benefits and taste. Don't wait until the end of the month, try new teas by visiting our website. We have various categories of tea from Oolong to Herbal. We are sure you will find something that you like.