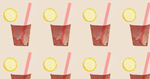 As April Showers roll through, so will warm weather that is perfect for sitting on the porch with a refreshing, cold beverage. We don't know about you, but for us, iced tea is the quintessential drink of the summer. But brewing it requires a little bit of know-how. Let's walk through the process of brewing flawless iced tea, as well as some teaware that is perfectly suited for the job.
How to Brew Iced Tea
Brewing the perfect pitcher of iced tea requires a few factors, and there are several methods you can use to get your desired result.
Hot-brewed Iced Tea
Hot-brewing tea that you plan to serve over ice should come out more concentrated than your standard hot tea.
Double the amount of tea leaves specified and steep according to directions on the package.
Pour tea concentrate over ice and enjoy!
While this process is simple and fast, it can come out tasting a bit bitter—much like cooling down hot coffee. For iced tea with a clearer taste and more nuanced flavors, the following methods may be best.
Cold-brewed Iced Tea
Just like cold-brewed coffee, cold-brewed tea is the preferred method for most iced tea enthusiasts. Cold brewing ensures a fresher tasting cup that isn't over-brewed or bitter, and allows all the flavors and aromas of the tea to come through.
Combine one part hot water with specified amount of tea leaves.
Add two parts cold water immediately.
Allow to chill in fridge for 2-6 hours and enjoy!
It's pretty much impossible to over-steep cold brewed tea, plus the leaves can be reused two or three times, so be sure to save them!
Sweetening Iced Tea
When it comes to sweetening iced tea, simple syrup is the best way to go. This ensures the sugar combines well and you won't have any granules that go undissolved. To make simple syrup, heat equal parts sugar and water until completely dissolved and add to your iced tea to taste.
Iced Teaware 
The vessel for brewing the iced tea can make or break your experience! Luckily, we've got the perfect pitchers for making a delicious cup of iced tea every time. Here are our favorite iced tea products:
Iced Tea Lovers Package
Brewing iced tea has never been easier with our Easy Iced Tea Maker, and this package comes complete with two tea blends that are perfectly suited to serving cold—our Organic Korakundah Nilgiri OP black tea and Orange Grapefruit herbal tea. This beautiful 50 oz pitcher made with true borosilicate hand blown glass and a double ring silicone gasket to keep the lid secure while serving.
Large Iced Tea Maker
Serving a large group? This Large Iced Tea maker is ideal for barbecues, big get-togethers, or an iced tea-loving family. This 68 oz lead-free borocilicate glass pitcher will make enough for a crowd!
Hot & Cold Tea Pitcher
A stunning, sleek option for iced tea is our Hot & Cold Tea Pitcher. When your tea is sufficiently steeped, you can remove the infuser to prevent over-brewing and serve directly from the lead-free pitcher. As the name suggests, this pitcher-brewer combination works for hot or cold tea, so it's perfect year-round!
Iced Tea on the Go
Iced tea isn't just for lazily sipping on your front porch. Take it with you in our 14 oz Glass Thermos, complete with double-walled glass and a soft neoprene sleeve for maximum mobility. Fill the infuser with your favorite black, white, green, or herbal tea blend, throw in some slices of citrus and herbs, and you have the perfect portable spring beverage. 
Whether you're a fan of classic southern sweet tea or prefer a light, citrusy iced herbal variety, Premium Steap's line of teaware and variety of blends will have you ready for sweltering days and balmy nights!