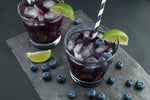 Last week we walked you through the process of brewing flawless iced tea. This week, we're going to show you how to use those skills to create some refreshing adult libations with the selections from our Iced Tea Best Seller Sampler. These are all also perfectly delicious without the booze, so feel free to emit the alcohol for a virgin version. Cheers!
Southern Spiked Sweet Tea Cocktail
This sweet and fruity drink is perfectly suited to serve in a big pitcher at a backyard barbecue. It's also incredibly simple to make—just combine and serve.
Ingredients
2 quarts iced

Korakundah tea

, sweetened to taste

1 cup lemonade

½ cup pineapple juice

½ cup orange juice concentrate, thawed

1 ½ cups dark rum

sliced lemons, oranges or pineapples
Directions
Combine all ingredients reserving some fruit for garnish and stir well.

Pour individual servings over ice and garnish with fresh fruit and mint.

Serve.
Moroccan Mint Green Tea Mojito
This twist on the Cuban classic uses our Moroccan Mint Green Tea to create an incredibly refreshing cocktail that's just begging to be sipped by the pool. This recipe makes one serving, but you can easily up the ingredients to serve this drink by the pitcher. To do this, simply muddle your mint, lime juice, and sugar in a pitcher and all your rum and green tea. Stir it up and serve.
Ingredients
1 tablespoon fresh lime juice

4 large mint leaves

2 teaspoons sugar

1/2 cup iced

Moroccan Mint green tea

1 ounce white rum
Directions
Muddle lime juice, mint, and sugar together in a glass to bruise the leaves and release the mint's oils.

Fill glass half full with ice and add rum and green tea.

Stir and serve.
Back Porch Tea
(Adapted from Saveur)
The unsweetened Strawberry Raspberry Rhubarb tea in this cocktail makes for a dryer drink that gets just a hint of sweetness from the natural sugars of a sliced white peach.
Ingredients
6 oz. unsweetened iced Strawberry Raspberry Rhubarb tea

1 1⁄2 oz. gin

Sliced white peach

Seltzer
Directions
Fill a collins glass with ice and add tea, gin, and sliced peach.

Top with seltzer, stir, and serve.
Blueberry Orange Grapefruit Herbal Tea Sangria
While this drink uses wine rather than liquor, it's the absolute perfect drink to create with our Orange Grapefruit tea. Perfect for a crowd, this drink is best served from a punch bowl so your guests can scoop out the fruit and herbs of their choosing.
Ingredients
Half a gallon of iced Orange Grapefruit tea, sweetened to taste

1 bottle of sweet white wine

Ice

2 limes, sliced

Blueberries, and any sliced fruit and herbs of your choosing.
Directions
Combine your wine, iced tea, fruit and herbs in a covered container and allow to sit in the refrigerator a few hours or overnight.

When you're ready to serve, pour the sangria into a punch bowl.

Serve over ice, garnishing with any remaining fruit or herbs.
Try all Four Best Selling Iced Teas from Premium Steap
Our best sellers this season are a mix of fruity, refreshing and thirst-quenching iced teas that are sure to keep you hydrated on those hot summer days to come! You can try all four at once with our Iced Tea Best Seller sampler pack, and make these delicious cocktails while you're at it!