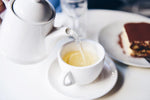 Maybe you drink most of your tea out of a thermos while rushing to work, barely stopping to savor it. If you really want to celebrate your love of tea, or just need an excuse to throw an afternoon get-together with friends, high tea may be just what you're looking for.
What Is High Tea?
When British afternoon tea first became tradition, it was an upper class affair designed to bridge the gap between meals. But before long, the working class adopted high tea, too, since it was refreshing after a hard day's work. While workers called it "high tea" because it took place at a table, the terms "afternoon tea" and "high tea" eventually came to mean the same thing. 
The small meal consists of tea (of course), as well as scones, small sandwiches, and teacakes. While there are entire books of etiquette detailing how high tea should be served, you can choose how traditional or non-traditional you want your gathering to be.
Which Tea to Serve
It's best to choose a selection of teas to serve to your guests. The most traditional options are Earl Grey, English breakfast, and chamomile, though we recommend splashing up the menu with herbal, green, and white varieties.
Which Dishes to Serve
Keep it traditional with tea sandwiches, scones, and clotted cream. Popular tea sandwiches include cucumber, egg salad with cress, smoked salmon and cream cheese, and ham with mustard.
You don't have to keep it traditional, of course—include other light bites at your own discretion. To complement your Earl Grey tea, why not whip up one of these dishes that start with a generous heap of Earl Grey? 
Earl Grey-Crusted Pork Loin with Fennel and Apples
This savory dish is perfect for a high tea that's more meal than snack. The tea infuses the tender pork loin with hints of citrus, while the softened apples add even more sweetness to the dish. 
With a little crunch and subtle sweetness, these shortbread cookies will delight your guests. The Earl Grey adds a dash of complexity to this much loved cookie, which is a classic choice for afternoon tea. 
When the weather is sweltering, nothing cuts through the heat better than Earl Grey tea ice cream. Intensely fragrant and refreshing, this tea may take some extra time and effort, but it will certainly make a memorable impression. Remember that the quality of your tea makes a big impact on your ice cream's flavor, so be sure to purchase your Earl Grey from Premium Steap. 
Little Baby's Ice Cream, a famed Philly gourmet ice cream shop, serves amazing and outrageous Earl Grey Sriracha ice cream. We highly recommend trying it for inspiration if you're ever in the city.
Sitting Down to High Tea
Set a table with a tablecloth and homemade nametags for your guests, arranging your teas so your guests can choose which they'd like. If you want to go all out, a tiered cake stand displays tea sandwiches, scones and pastries beautifully. When it comes to tea-ware, ceramic is thought to be more traditional, but you can style the party to fit your aesthetic. Inspiration boards are a great way to develop a vision for your table setting.
In addition to from tea and snacks, champagne and cocktails are occasionally served at high tea. If you want to include a few extra libations, mimosas, sloe gin royales, and Pimm's cups are popular choices. 
We wish you a relaxing, refreshing high tea!