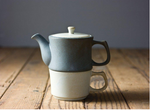 Earl Grey tea has been a staple in England since the 1820's. A simple black tea blend flavored with bergamot oil, Earl Grey is reminiscent of Chinese tea blends that use similar ingredients. But what is bergamot oil, where does it come from, and how does it blend with black tea to form a combination as classic as peanut butter and chocolate?
An orange with coastal origins
Bergamot oil is distilled from the bergamot orange, a fragrant citrus fruit that grows along the coast of the Ionian Sea and Côte d'Ivoire. Thought to be a hybrid of the sweet lime and bitter orange, the fruit is used to make marmalades—but you've probably also stumbled across the scent in a high-end fragrance store, it's very popular in perfumes.
The majority of bergamot oranges are grown in Italy's Reggio di Calabria province, also referred to as "the city of bergamot." If you're thinking of extracting bergamot oil yourself, plan to buy a lot of oranges—it takes about 100 to produce just 3 ounces of oil!
How Earl Grey tea is made
Traditional Earl Grey tea starts with a base of black tea leaves, anything from Darjeeling to Ceylon. Once the leaves have withered, dried and oxidized, they are flavored with the bergamot oil extract for a powerful aroma and rich flavor. Each blend of Earl Grey is different, so the tea-to-bergamot ratio is dependent on the variety. You may want something traditional like our Earl Grey Fancy OP or something a bit bolder like our Royal Earl Grey with jasmine.
Bergamot oil in tea: A classic combination
The combination of earthy black tea and the unique citrus flavor of bergamot oil is not only delicious, but completely unique. Whether you're a purist who prefers their cup black or like to enjoy your Earl Grey tea with milk, Premium Steap has a variety of blends to choose. Some of our best sellers include Lavender Earl Grey and Earl Grey Rose.
One thing for certain is that Earl Grey tea tastes best when it's fresh, not stale from sitting in a tea bag. All of our loose leaf teas are at peak flavor and hermetically sealed to retain freshness until you're ready to enjoy them.