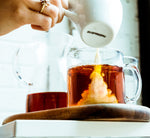 Drinking Earl Grey tea with milk sounds simple, but there is a right and a wrong way to do it. There's a time-tested recipe for preparing this unique citrus-infused tea to ensure you can experience its complex flavor profile.
How to prepare Earl Grey tea with milk
If you want to try Earl Grey like the Brits with a bit of milk, here's the best way to go about it so the milk won't curdle in the hot tea!
Start with fresh, cold water and heat in a nonreactive kettle until just below boiling

Measure your Earl Grey tea and place in your tea infuser and a

llow it to steep for 3-5 minutes

Reserve some hot water and fill your teacup. Let sit for about a minute to warm the cup, then pour the water out. Then add the milk to the warm cup—this will bring the milk to temperature so it doesn't curdle.

When the tea is done steeping, slowly put it into your teacup over the milk. 
What is Earl Grey tea?
A traditional English tea, Earl Grey is black tea that has been flavored with bergamot, a citrus fruit native to coastal areas around the Ionian Sea. It was likely named after the 2nd Earl of Grey who served as Prime Minister of England in 1800s. The exact origin of the blend is unknown, but several legends exist explaining how Earl Grey tea ingredients came to be. The Greys, however, say that the tea was customized for the Earl of Grey by a Chinese bureaucrat who specially blended the Earl Grey tea ingredients to mask the taste of lime in the water at his home.
Earl Grey tea from Premium Steap
Premium Steap offers a delicious, premium Earl Grey blend called Earl Grey Fancy OP, and we have several irresistible variations as well. Try a lighter version with Earl Grey White, a Chinese peony tea flavored with bergamot. Or treat yourself to a floral cup of Lavender Earl Grey, Earl Grey Rose, or Royal Earl Grey with jasmine. Our London Fog Earl Grey is infused with creamy vanilla, while our Organic Darjeeling Earl Grey is the preferred choice of Philadelphia's own Parc restaurant. And of course, there's always Decaf if you're craving a cup without the caffeine.
Whether you're more traditional or want to try something new, you're sure to find something you love in Premium Steap's selection of Earl Grey tea.
Recipe - Dark Chocolate Chip Earl Grey Cookies
Premium Steap's Earl Grey tea is not just for drinking, you can bake with it too! Try this recipe for decadent chocolate cookies with a hint of Earl Grey flavor. 
Dark Chocolate Chip Earl Grey Cookies
(makes about thirteen 3-inch cookies)
1/2 cup Premium Steap's Earl Grey Fancy

3/4 cup unsalted butter, divided into 1/2 cup and 1/4 cup portions

1 tablespoon pure vanilla extract

1/2 cup granulated sugar

1/2 cup plus 3 tablespoons light brown sugar, tightly packed

2 eggs

1 3/4 cups all-purpose flour

3/4 teaspoon baking soda

3/4 teaspoon baking powder

1/2 teaspoon salt

10 ounces (1 package) dark chocolate (or, semi-sweet) chunks
In a large saucepan, brown 1/2 cup unsalted butter by melting over medium-low heat and whisk in Earl Grey and vanilla extract. Set aside to rest for 30 - 45 minutes. 

Then, place fine-mesh sieve over the bowl of a freestanding electric mixer

. Strain the tea and butter mixture into the bowl. Melt the remaining 1/4 cup of unsalted butter and add to the bowl.

Add granulated sugar and brown sugar. Using the paddle attachment

, beat on med-high speed for 10 minutes until light and fluffy. Add 2 eggs, one at a time.

In a medium bowl, whisk flour, baking soda, baking powder, and salt at low speed. Add chocolate chunks and beat.

Halve the cookie dough and shape each portion into a log about 2 inches in diameter. Cover in plastic wrap, refrigerate for 15 minutes to firm up the dough. Once the dough is firmer, roll them against a hard surface to create perfect logs, put them back in the refrigerator and chill for at least 10 - 12 hours, preferably overnight.

Once dough is chilled, preheat the oven to 375 (F) and line your baking pan

Unwrap the cookie dough logs and cut into 1-inch thick rounds. Bake for 10 to 12 minutes, or until the edges have set. Allow the cookies to cool and enjoy!