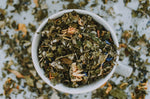 There's nothing better than sitting down and relaxing with a cup of tea. Whether it be in the morning, or before bed, tea can be enjoyed any time of day. The problem is that when we get busy, self-care acts such as brewing tea get thrown out the window. 
If you were planning to say goodbye to tea forever because you're so busy, don't worry! There are plenty of ways to continue enjoying tea even when we are constantly in motion. Let's look at ways to enjoy tea more often during the day. 
Bring it With You 
To start, if you spend most of the day on the go, throw some tea in your bag. When you have a moment at the office, grab a cup of hot water from the break room and take some time for yourself. Or, bring it with you when you're traveling to replace the standard tea you find in hotel rooms. Having tea with you at all times will allow you to drink it more often, and have exactly what you want when the mood strikes. 
Brew Iced Tea 
Another way to enjoy tea more often is to make a batch of iced or cold brew tea. That way, it's ready to go and you don't have to take the time to steep it. All you need to do is pour yourself a glass and you're ready to enjoy some tea! This is also a great way to use up excess tea you may have so it doesn't go to waste. 
Cook With Tea
To enjoy tea, you don't always have to be drinking it! Try finding recipes that incorporate tea, or adding it to your favorites to change up the flavor. You may find a new favorite doing this, and it's a great way to switch up how you're enjoying tea throughout the day.
Create a Tea Ritual 
If you are struggling to relax during the day, try creating a tea ritual. A tea ritual involves setting aside a time of day that you cozy up in your favorite spot and take a break. Brew your favorite tea, pour it into your favorite mug, and give yourself that time to just be. It doesn't have to belong, either. On busy days, try to take 5-10 minutes with a cup of tea to recharge. You can also carry out your tea ritual at the end of the day before bed to unwind. 
Try it in a Cocktail
Who doesn't love happy hour and a good cocktail? Try making your favorite iced tea into a cocktail with spirits, or sparkling water if you prefer non-alcoholic. There may also be tea-infused cocktail options at your favorite happy hour spot to try, as well. 
Make Tea Popsicles 
Making tea popsicles is another fun way to switch it up from drinking your tea. Grab a popsicle mold, and turn your favorite iced tea into a refreshing popsicle! The best teas for this will be fruit and citrus teas. You can also add slices of fruit into the popsicles to make a nutritious tea snack!