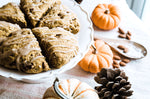 The fall season is quickly approaching, and Halloween is just around the corner! Soon, the ghouls and the goblins will be out trick-or-treating (or alternative methods), collecting that sweet, sweet candy. But what does that mean for the grownups? While the kids are out scoring their big bag of candy loot, the adults now have the option to enjoy a hot, aromatic, reinvigorating cup of tea, with a delicious, natural taste that is reminiscent of this frightening holiday. With a delicious range of chocolate, pumpkin, marshmallow and cinnamon spiced tea, there is a flavor for everyone!
Premium Steap has you covered with a new lineup of black teas, perfect for this spooky time of year. Keep reading to find out which drinks are this season's hottest hits.
Pumpkin Pie – This delicious flavor is self explanatory. The fall season features everything pumpkin: pumpkin pie, pumpkin lattes and pumpkin soups. So why not pumpkin tea? This fragrant blend of black tea is mixed with autumnal spices, perfectly replicating a slice of sweet, pumpkin pie after a hearty Thanksgiving meal. So much so, in fact, that you can easily skip the calories of an actual pie and enjoy a cup of tea instead!
Black Cinnamon Apple Sticky Bun – This new flavor is the perfect mixture of an apple pie and an ooey, gooey cinnamon bun! This naturally sweet, black loose leaf tea has hints of apple and caramel, giving the aroma a nostalgic quality. The best part? It's a completely guilt free dessert!
Creamy Caramel – Yet another black tea with sweet, velvety notes. This tea's fragrance and flavor are similar to a piece of caramel candy that you would get while trick-or-treating. Its taste can be further enhanced with some milk, creating a creamy texture and lighter coloring.
Dark Chocolate – A fitting name for an extraordinary cup of tea! Made primarily from black tea, this flavor is enhanced with cocoa peel, broken bits of chocolate, and coriander, creating a thick and creamy dark chocolate taste and texture. What better way to experience Halloween than to enjoy the very thing that makes this holiday as exciting as it is: chocolate!
Black Pumpkin Marshmallow

– This fancy sounding beverage has a nostalgic taste of S'mores, which brings you back to the good ol' days of camping. Reminisce while enjoying this refreshing, sweet, marshmallow-flavored tea which is chock-full of fragrant spices, guaranteed to put you in the autumn state of mind.
Halloween can be enjoyed by any person of any age! But since this year is not a "normal" year for Halloween and trick-or-treating, then maybe relaxing at home with a cup of tea and a scary flick is a little more up your alley. Whatever your preference, Premium Steaps lineup of fall flavors are sure to impress.