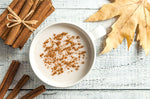 Get cozy with our homemade Eggnog Latte! 
Eggnog is a beverage that is traditionally consumed around the holiday season, from late November until the end of the year. Our simple Eggnog latte recipe is the perfect way to celebrate the upcoming holidays or to cuddle up with on a cold fall night. You'll fall in love with it's "egg-ceptional" smooth blend of black tea and creamy flavor of Eggnog. 
Ingredients
Makes one serving.
1 Tablespoon Of A Black Tea Of Your Choice
1/3 Cup Boiling Water
1/4 Cup Eggnog
Cinnamon, Star Anise Or Nutmeg To Sprinkle On Top (optional)
Whipped Cream (optional)
Directions

Steep any black tea of your choice in hot water (⅓ cup) for up to 5 minutes.
Add eggnog (1/4 cup) into your cup of steeped tea, then whisk with a frother. Make sure the frother is submerged into liquid before starting the frother.
Once your tea is foamy on top, add sweetener of your choice for added flavor.
Top with a swirl of whipped cream and/or sprinkle with cinnamon, star anise or nutmeg.
Enjoy!