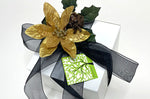 Get ready for good times and perfect presents! Our happy, healthy holiday gift guide for 2020 has everything you need to gear up for the season. Show family members you've been extra close to (due to quarantine) all year that they are still your favorite people. Or send something special to someone you miss. Or even send a surprise and find a little present for a person who isn't expecting it. From stocking stuffers to possible white elephant goods, our gift packages are full of things to help you spread holiday cheer near and far. We found the best gift ideas for every type of tea lover. In your life.
New Tea Sipper
Finding the best gifts for tea lovers involves a bit of sleuthing, but for someone that is new to tea, it's obvious what they need. If you are shopping for a gift for this kind of tea lover, it's time to get them the proper introduction to the world of tea with our Beginners Package. It's one of our best selling holiday gifts for a reason as is the perfect introduction for someone new to the wonderful world of premium loose tea. With three assortments of teas, you get the chance to try a little bit of everything. Package includes gift wrap and an easy to use high quality stainless steel infuser and ceramic dish.
Selfish Tea Drinker
The definition of a selfish tea lover is the act of making a cup of tea for oneself, whilst completely disregarding any one else who may also want a tea. But when tea is so good, who could blame them? When it comes to tea, it's ok to be selfish. Our Personal Deluxe Tea Kit is made for this kind of tea sipper as it's composed with one person in mind. Package includes 15 oz raindrop teapot with built in infuser, Japanese paper canister with 2 oz selection of tea. 
Versatile Tea Lover
Look into a tea drinker's cabinet and you will most likely find a curated collection of teas, tins, pouches, to fit every mood and occasion. The versatile tea drinker, they may appreciate a variety of blends to try out. Our #1 Best Selling Gift, Holiday Gift Sampler is the perfect fit. They'll get four 2 oz teas in up to three selections to choose from. 
Family of Tea Drinkers
What do you do when the whole family loves tea? You buy tea for the whole family! We have a Deluxe Family Gift Package so that you can make sure there's enough tea for the whole family for the holidays. Comes with three 2 oz teas with 64 oz teapot. Includes gift wrap!
Hard-To-Please Tea Lover
When all else fails and you're still at a loss for what to gift a loved one, you can never go wrong with a Gift Card. Give them the gift of choice with a Premium Steap gift card. Gift cards are delivered by email and contain instructions to redeem them at checkout. Our gift cards have no additional processing fees. Get values $25-$100. Redeemable online only.