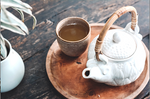 It is not an overstatement to sum up this past year as one of extremes and unprecedented times.
From COVID-19, adjusting to working and learning from home, to inspiring societal change through social justice movements to incredible advancements in science - 2020 has been quite the ride.
You might be one of our many customers who turned to Premium Steap teas to provide comfort and cope the twists, turns and setbacks that 2020 has offered. But no matter how much tea you sipped this year, it's easy to say that 2020 has still left a bad taste in our mouth. But if you had to choose, what type of tea would best describe this year in a nutshell? Would it be the strong taste you get from black tea or a sweet herbal rooibos blend? If we had to make 2020 into tea form, this would be some of its components.
High Astringency
If 2020 was a tea, we can definitely say that it had a high astringency level. It left a dry, fuzzy and/or rough sensation on our palate. 
High Caffeine
Without consuming our own high on caffeine beverages, 2020 has supplied its own level of caffeine. This year kept us up and on edge with everyday providing something new. 
Sweet Top Notes
The year has been bad, but with some glimpses of hope and beneficial outcomes. Some may have benefited from some of the drastic changes that have occurred in 2020. For example, for those students or employees that hate going into a building for work and studies, may have appreciated the ability to work from home. We also recognized and took full advantage of our technology from app home deliveries to zoom meetings. 
Boiling Point
To steep 2020 tea, you need to get the water temperature just right. All of the main tragedies that have happened in 2020, are resulted from years of it boiling up, but never reaching the tipping point. One example would be the Australian bushfires. Climate Change has been a prevalent topic for decades, and those fires put the issue finally on the spotlight.
Above was a metaphorical review, but to truly summarize, 2020 is a tea that no one would willingly consume. But the year has taught us some valuable lessons. Here are a few of our takeaways from this year:
It has taught us that it's not only okay to have free time, but it's necessary. We learned the importance of self care and putting ourselves first, mentally, physically and emotionally.
This pandemic has been a testament to just how resilient we are as humans and our ability to be flexible and creative in the face of uncertainty.
This year has served as a reminder of how precious life is and why we should appreciate the small things in life.
How about you? What has 2020 taught you so far?