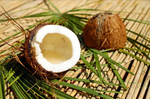 For many people, summertime means daydreams of relaxing on a Caribbean beach with a refreshing coconut drink in your hand and steel drums playing in the background. But if you're staring at a computer screen all morning instead of taking in a Caribbean sunrise, or setting up camp at the city pool instead of relaxing on a tropical beach, you can still get a taste of summer paradise with our coconut teas.
Our Coconut Teas are a Perfect Summer Drink
No need to add coconut milk to enjoy our delicious coconut teas. Whether you're craving a fruity summer drink or something darker and more full-bodied, Premium Steap has you covered. Our coconut tea blends offer the rich tropical flavor you're craving, and chilling these teas will keep you cool and refreshed on hot summer days.

Try Our Delicious Coconut Teas
Even if you aren't able to relax under palm trees on a Caribbean beach this summer, our delicious coconut teas will make you feel like you're there. From roasted coconut to fruity coconut teas, we will bring the beachy summer feel to you. Order online or stop by our Center City location to give our coconut teas a try!