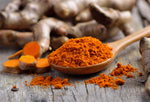 Turmeric is quickly becoming trendy in the food world for its flavor, but one of the biggest reasons it's so well-loved is its many lifestyle benefits. People love turmeric for its anti-inflammatory properties, as it has a soothing quality to it. Turmeric is often paired with ginger because the flavors complement each other well. And, because they're in the same family, it's no wonder that turmeric pairs with citrus flavors just as well as ginger does.
There are many recipes for using turmeric in food and juice, but you can also get the same great flavors and benefits of turmeric in tea. At Premium Steap, we offer a variety of turmeric teas, from calm and earthy to spicy and energizing, for whatever flavor you're in the mood for!
Organic Turmeric Comfort
Our Organic Turmeric Comfort tea is paired with rooibos to make it full bodied—plus, the cinnamon and black pepper add a bit of a kick. This blend also includes ginger for its complementary flavor and added lifestyle benefits.
Ginger & Turmeric Kapha
The Ginger and Turmeric Kapha tea has a more intense flavor if you're feeling adventurous. It has a blend of ginger, coriander, whole cardamom, turmeric root, cloves, and nutmeg, producing a spicy and slightly sweet tea. It's also a very energizing tea that can be an herbal substitute for your morning coffee.
Organic Turmeric Chai
Chai has been all the rage for a while now, and our Organic Turmeric Chai tea comes with a bit of a twist. We've blended this black tea with turmeric, ginger, cinnamon, pepper, and cardamom for an earthy flavor with a spicy kick. If you want to step up your chai game, this tea is for you.
Organic Turmeric Citrus Zing
Organic Turmeric Citrus Zing tea is one of our newest teas. Along with the earthy turmeric and the zesty orange peel, it's also blended with rooibos, rosehips, and cornflowers. It can be paired with any meal, and we have some recipe suggestions on our Orange & Turmeric Pairings post.
Whichever tea you're in the mood for will enhance your day with some great flavors and benefits. And if you can't decide on just one tea, check out our
gourmet tea samplers
to get a nice variety!