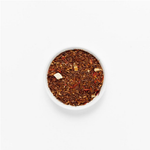 You may have seen our article about lemon, ginger and honey tea, but there are many other ways to add a pop of citrus to your tea.
Turmeric and citrus might not be the first flavor combo that comes to mind, but the two flavors complement each other perfectly, and the fruity citrus will get you in the mood for summer.
While turmeric mixed with orange juice is all the rage right now, mixing these flavors in tea produces a lighter, healthier drink. Our new Turmeric Citrus Zing tea melds turmeric and orange peel to balance earthy tones with zesty ones.
The best part about our Turmeric Citrus Zing tea? You can enjoy it with recipes like these, which also feature this summer's favorite flavor duo.  
Orange Turmeric Breakfast Scones
East meets West with this zesty twist on a breakfast scone. Our Turmeric Citrus Zing tea goes perfectly with the orange and turmeric in the scones, and the blueberries add a fresh and sweet taste to your morning.
Cranberry Pecan Quinoa Salad with Honey-Orange Dressing
To bring out the orange peel in the tea, pair it with this quinoa salad with orange dressing. The cranberries and honey add a little sweetness, while the nutty flavor of the pecans pairs well with the hint of earthy turmeric and thyme.
Orange Ginger Turmeric Roasted Root Vegetables
If you're in the mood for something earthy instead of sweet to go with your Turmeric Citrus Zing tea, try this root vegetable recipe. The bitter turmeric and rich ginger pair well with the rustic root vegetables, while the orange adds a bit of zest to the dish.
Blood Orange-Turmeric Upside Down Pound Cake
This blood orange-turmeric cake is as delicious as it is beautiful. The cardamom and turmeric bring an earthy flavor to the sweet oranges, while the buttery cake will melt in your mouth. Desserts always pair nicely with tea at the end of a meal, and the Turmeric Citrus Zing tea will add some depth of flavor to the rich, sweet cake.