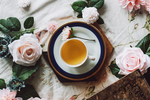 We love to share with our customers some helpful recipes to add to their morning tea routine. And with spring here, it's time to make a transition from hot soothing beverages to refreshing floral and fruit blends! After a long winter, we often feel sluggish from heavy foods and hibernation. But now spring is in the air and it's time to wake up the body and the senses! Below is a recipe to make a flower bouquet right in your own tea cup.
Ingredients
Yields 1 Cup Of Tea
2 parsley leaves (without the stem)

1 tablespoon of dried lavender

2 tablespoon of dried rosebuds

1 tablespoon of dried chamomile

1 tablespoon of raw honey
Optional
½ tablespoon of bee pollen (use a lesser amount first, then add more if desired)

½  tablespoon of sugar (any sugar of your choice)
Instructions
Combine all ingredients and mix until well blended in dry bowl or canister

STOP and smell the roses

Place ingredients in infuser

For 1 cup of tea, pour 1 cup of boiling water over tea

Steap for at least 10 minutes.

Sweeten with optional ingredients mention above like honey and sugar, if desired.

Enjoy your floral bouquet in a cup!
A refreshing start to your day, this floral spring tea is flexible to be a morning drink or served up as a beverage at night. Interested in trying this recipe for yourself? Give it a try! We would love to hear your thoughts. Tag your creation on Instagram or Facebook with #premiumsteap.
Or if you want something similar and don't want to gather the ingredients, we also provide loose leaf spring teas with floral components. See below for some of our new spring teas!