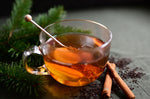 It's a cold winter day and the wind chill is high. What could be better than a steaming hot cup of tea to warm you up? While the wintertime is beautiful, being cold isn't fun. You can put on layers upon layers of warm coats and jackets, the chill in the air will fight to break through your layers. A warm cup of tea doesn't only warm you up from the inside, but there are so many other benefits of drinking tea such as soothing a sore throat, boosting your immune system, detoxifying your body, and keeping your gut healthy! 
This winter, we want to show you the 5 best teas you can drink to stay cozy and warm while Mother Nature works to put a white blanket over us. With these 5 teas, you are sure to be relaxed, cozy in your home watching the snowfall, and working to improve overall health! Let's not waste any more time…
The 5 Coziest Teas for Winter
Made with broken Assam, this classic Indian chai is one of our most popular teas for the wintertime. Giving you all the cozy vibes with a blend of ginger, cinnamon, cardamom, and vanilla, this tea is sure to make you want to curl up on the couch and watch a holiday movie while the snow is falling on the trees outside. 
This relaxing and warm blend mixes some mild flavors with a bit of spice. The Tulsi (a holy basil) works to boost your immune system and it's combined with ginger, orange, and a dash of peppercorn. This sweet, earthy, and slightly spicy cup of tea is perfect to protect against that winter cold! 
What is cozier than the sweet scent (and taste) or cinnamon almond tea? This tea mixes sweet cinnamon with a delicious almond, plus a touch of beetroot. This tea is perfect if you are looking to fill that sweet tooth craving of yours! 
This certified organic black tea combines your favorite flavors. With turmeric, ginger, cinnamon, pepper, and cardamom, this tea gives off major cozy vibes! This is a great tea for lazy days on the couch, or to warm up your body after being outside in the snow for a while! 
For the last cozy tea, we want to highlight our winter solstice tea. This black tea combines cinnamon, ginger, and oranges to give you a sweet spiced cup of tea. The ingredients in this tea help to boost your immune system so you can stay healthy all winter long! 
Here at Premium Steap, we provide you with high-quality teas that are sure to give you cozy vibes. Not only are our teas the perfect thing for a winter movie day, but they also work to improve your overall health so you can stay healthy this winter season. Which tea will you try?