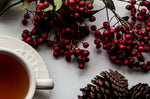 Do you have a tea lover in your life and you want to get a head start on your holiday shopping this year? We have just the thing for you! Premium Steap offers high-quality tea products to please any of the tea lovers in your life. This year, we recommend starting your holiday shopping early to avoid the shipping delays the world is expecting. 
This 2021 gift-giving guide for tea lovers is the perfect place to start your 2021 holiday shopping! Premium Steap has the perfect gift sets for you to gift this year! Want to see what the top 5 gifts are to give for the tea lovers in your life? Let's get into it…
The Top 5 Gifts to Give the Tea Lovers in Your Life:
Introduce the tea lover in your life to the wonderful world of premium loose tea! This gift includes Premium Steap's bestselling teas and it comes beautifully gift wrapped so you don't have to do anything! Coming in 3 different varieties, Black Tea, Best Sellers, or Herbal teas, this starter kit is the perfect thing for a tea-obsessed friend or family member! For only $45, you can give the perfect gift!
Are you looking for a complete tea kit to gift this year? This is it! This personal deluxe tea kit comes with our 15 Oz raindrop teapot with a built-in infuser, our Japanese paper canister, and 2 oz of your selection of tea. You can choose between our French breakfast, Chamomile, Lavender, Mint, Mt Everest, or our Earl Gray Fancy. This is the perfect all-inclusive gift for the tea lover in your life!
Do you have a family that you need the perfect gift for? Give the gift of tea! Make sure they have enough tea for the entire family with our Deluxe Family Gift Package! Choose 3 different 2 Oz teas and get a 64 Oz teapot! This package comes pre-wrapped so you don't have to do a thing! This is the perfect holiday gift for your friends that love tea – they are sure to love our high-quality and tasty teas!
The perfect size teapot for your nighttime routine, this holiday gift set is the perfect gift! Do you know someone who always has tea before bed? Then this is the perfect thing to get them this holiday season! Made with borosilicate glass lets you watch your tea brew while you get ready for bedtime. The strainer lid allows you to fully extract the flavor of the tea, which you have so many different options to choose from for our nighttime teas! 
Are you shopping for a tea lover but you don't know what they like? The best thing you can do for them is to buy them a Premium Steap gift card! Our gift cards are delivered by email and contain instructions on how to redeem them. This is the perfect thing if you know someone likes tea, but you aren't sure what kind!