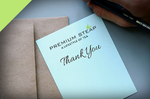 It's Thanksgiving week, and you're probably looking forward to spending the weekend feasting with family and friends!

But before you get to your festivities, Premium Steap wants to take time to say 'thank you' to all of our customers and supporters!
We have been in business locally for 15 years. And over our years of business, it has been our mission to provide high quality and exotic flavorful teas to our customers. We have been thankful for the years of support and we look forward on creating new content and products to meet your needs.
We want to hear from you! Any additional suggestions you may have would be welcome. We love to hear feedback on ways to help better serve our customers. Please feel free to email us at info@premiumsteap.com.
You can also stay up to date with news, sales and local events by following us on Facebook, Twitter, Instagram and Pinterest!
Again, thank you so much.