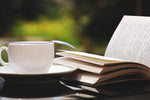 If tea had a sidekick, the way the Batman has Robin, tea would have books. The two go hand and hand like ketchup and mustard or peanut butter and jelly. Reading a good book with a cup of your favorite tea is pure bliss and zen. The reason why this pairing works so well is because tea is one of those drinks that can work with any genre. Whether you are diving into a good romance, comedy, drama, mystery, historic, sci-fi, romantic comedy, the list goes on, you can sip your way to the end of each story. 
Tea Depicted In Movies
We all know that tea and books are a perfect pairing, but we may not know good books with tea themes in them. For example, you can probably name 5 movies with scenes of people sipping tea. One of these movies below may have popped in your head:
The Great Gatsby

Alice in Wonderland

Mary Poppins 

Downton Abbey 

Beauty And The Beast

The Hitch-Hikers Guide to the Galaxy

The Princess Diaries

Winnie The Pooh

Titanic

Tea with Musollini

You've Got Mail 

Mary Poppins
Most movies made in Hollywood tend to portray tea drinking as stereotypical. It showcases how they think we drink tea, and not how a regular tea drinker does it. However, movies based in and on countries where tea drinking is regarded as an important component of daily and social life portray tea drinking in a manner that reflects a more serious perspective. You may have learned to drink tea through watching these types of movies. As you grew older, we hope that you learned that everyone does not drink tea with their pinky out. 
Tea Depicted In Literature
But when it comes to tea in books, our memories may be more limited. Even though sipping tea is an activity we do while reading a book, it's not so common to read a book about someone sipping tea… until now. We have collected some popular reads with tea themes that you can enjoy after steeping your next favorite tea.
1. Sweet Lavender - 1888
Sweet Lavender is a play in three acts by Arthur Wing Pinero, first performed in 1888. The English playwright said that 'where there's tea there's hope'. The quote was significant enough to make it on this list. The sentimental and gently humorous story concerns the romance of Lavender Rolt and Clement Hale, and the complications impeding the course of true love. You can read it for free here.
2. The Great Gatsby by F. Scott Fitzgerald - 1925
The Great Gatsby is a novel written by American author F. Scott Fitzgerald follows a cast of characters living in the fictional towns of West Egg and East Egg on prosperous Long Island in the summer of 1922. The book took place during a time when alcohol and partying ran rampant, but there were also scenes of social tea gatherings. Read here.
3. The Hobbits by  J. R. R. Tolkien - 1937
The Hobbit, or There and Back Again is a children's fantasy novel by English author J. R. R. Tolkien. You may be surprised, but hobbits love to drink tea. It might not be the first thing that pops into your head when thinking of these small literary characters. With their penchant for several meals a day, they love to drink tea with several of them. Read here.
4. The Bennett Sisters: Pride and Prejudice by Jane Austen - 1813
Jane Austen's best-loved novel is an unforgettable story about the inaccuracy of first impressions, the power of reason, and above all tea. The Bennett sisters' declaration that "Mr. Bingley is coming to tea!" has been repeated throughout the years. He certainly was one of the most anticipated tea guests. This book definitely reflected the 18th century standards of tea decorum. Read here.
5. The Hitch-Hikers Guide to the Galaxy by Douglas Adams - 1979
You rarely find a fiction book centered around tea. Main character Arthur Dent is abducted into space and facing the destruction of the earth and all he wants is a good cup of tea. All tea lovers can relate. Read here.
6. Winnie the Pooh and Christopher Robin: The House at Pooh Corner by A.A Milne - 1992
In this children's novel, Winnie the Pooh and his friends seem to spend most of their days having adventures in the Hundred Acre Wood and enjoying tea parties with one another. The plush yellow bear is primarily known for his love of honey, but he also loved tea. Read here.
Photo by Kate Hliznitsova on Unsplash