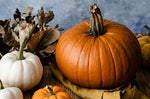 It's that time of year again! Leaves are starting to fall, and pumpkin fever is upon us. Join us in making one of our favorite pumpkin chai recipes or drinking some of our favorite pumpkin teas. Keep reading for everything about the best and most popular flavor of fall. 
Why Is Pumpkin So Popular? 
Everyone knows when fall begins because of the infamous "PSL," or pumpkin spice latter, from Starbucks. In recent years, Starbucks has brought back the PSL as early as late August or early September. The pumpkin spice latte was originally rolled out in 2003, and since then it has signified the start of autumn for many. It reminds people of coziness, holiday baking, Thanksgiving, comfort food, Halloween movies, and all the other flavors of fall that make them love this time of year. 
While you may not want to pay $5+ for a PSL each morning, you can make your own fall-themed drink with our recipe. 
Pumpkin Chai Recipe 
Ingredients
1 teabag of spiced chai (or one of the teabags below)
½ cup plain, unsweetened milk of choice
2 tbsp real pumpkin purée
1 tbsp real maple syrup or honey
¼ tsp vanilla extract
¼ tsp pumpkin spice blend (or 1/8 tsp ground cinnamon, 1/8 tsp ground ginger, dash of nutmeg, dash of cloves)
Tiny dash of salt

 

½ tsp arrowroot starch or cornstarch (optional to make creamy)
Optional garnishes: 1 cinnamon stick, star of anise, or whipped cream)

 
Instructions
In a small saucepan, bring ½ cup water to a gentle boil. Remove the water from heat, add the teabag, and let it steep for 4 minutes. Then, remove the teabag and squeeze out any water remaining by pressing the teabag against the side of the pan with the back of a spoon.

 

Add your milk, pumpkin purée, maple syrup, vanilla, spices, and salt to the pan. Whisk in the optional cornstarch if applicable. Pour the mixture into a stand blender and blend for 1-2 minutes.

 

Pour the mixture back into your pan and rewarm. Pour into a mug when finished. Add garnishes.

 
Find Your Favorite Fall Drink
Are you ready to find your favorite fall teas? Premium Steap offers a wide variety of fall flavors that will work in the recipe above or that you can enjoy on their own. Here are some 
Pumpkin Pie

- This is an old favorite made of a fine black tea and autumnal spices. It's perfect on a chilly fall morning or Thanksgiving Day!

Pumpkin Cream

- This is a new blend that incorporates honeydew melon, apple, stinging nettle leaves, sunflower blossoms, and natural flavoring. If you're looking for something a bit different (but still fall), don't hesitate to try it!

Caramel Pumpkin Spice

- Is fall all about caramel for you? This new blend may do just the trick. It's sweet and tasty, and we highly recommend it.

 

Pumpkin Vanilla

- Finally, a vanilla-flavored green tea for our friends who love the coziness and nostalgia that this flavor brings about.
Feel free to browse for your own here to satiate your pumpkin fever.