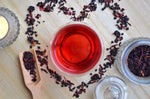 Tea is the way to anyone's heart, right? This valentine's day, Premium Steap Tea wants to make your day even sweeter by telling you about our top tea picks. Valentine's day is all about spending the day or night with your partner and showing them just how much you love them. Being in love is one of life's sweetest blessings, so if you're looking for something special and unique to gift your tea-loving partner with, we have just the thing for you!
Whether you're making dinner at home or having a movie night in, our teas are the perfect complement for your already perfect date. If you have a tea lover in your life, why not gift them with some classical and unique flavors to show them just how much you love them? Here are our top tea picks for the sweetest Valentine's Day date…
Our Top Tea Picks for the Sweetest Valentine's Day
Keemun Rose
Our first tea pick is our Keemun Rose tea. This is a lovely blend of Keemun Chinese black tea and rose petals. This is a strong and sweet cup of tea that features a delicious hint of floral notes. Not only does it cream valentine's day with its sweet taste, but the rose petals add a special romantic touch to your teatime!
Strawberry Rose
Our strawberry rose tea is a beautiful combination of sweet, fruity, fresh, and flavorful. Using fresh ingredients like strawberries, elderberries, and rose, this tea is the perfect way to swoon your partner this Valentine's Day! As if this tea couldn't get any more romantic or delicious, it also features notes of apple, pineapples, cherry, black salsify pearls, and cranberry. This is the perfect tea for your romantic Valentine's Day brunch!
Strawberry Raspberry Rhubarb
This fruit tea blend is an excellent choice for your Valentine's Day gift for the tea lover in your life! Blended with strawberry, raspberry, rhubarb, and hibiscus, this tea is sure to make your love stronger! Its intense fruit flavor is good hot or cold – so matter what Valentine's Day date you have planned, this tea is perfect for it!
Earl Gray Rose
This simple, yet romantic tea blends your favorite tea flavors into one – Black tea, bergamot, and a touch of rose petals. This tea is going to revitalize both you and your partner, so you can have a date night filled with your favorite things! You can never go wrong with an Earl Gray tea!
Organic Hibiscus
This tart tea features romantically beautiful notes of cranberry-like flavors of hibiscus. Whether you want to serve this tea on its own or add it to your and your partner's favorite tea, this tea tastes great either way!

The team at Premium Steap wants you to have the most romantic Valentine's Day date this year. With our teas, you can wow your partner with our delicious teas, and show them how much you love them by making them a delicious cup of tea! Which ones will you be gifting this Valentine's Day?