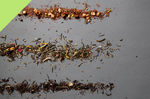 Leaves are falling and our tea leaves are steeping. It's the time of year when you make your traditional holiday pies and treats and get the best of both worlds with sugar and spice! Thanks to Premium Steap, you can leave the baking sheets and batter alone and enjoy your fall favorites in the form of our loose leaf tea blends. Our teas range from classic Pumpkin Pie to Gingerbread Latte!
Apple Inspired Teas
Making a classic apple pie is not a quick process; it demands your full dedication and attention over several hours. With our apple inspired teas, you can have the taste of a homemade apple pie in your teacup within a matter of minutes. We offer a spin to your holiday favorites with flavors like Apple Ginger and Organic Green Crisp Apple. When you pair these teas with pastries and aromatic spices, there is nothing more comforting.
If apple isn't your dessert of choice, Pumpkin is another fall favorite. Pumpkin Pie is sure to be on everyone's table this Thanksgiving. Nothing beats homemade pumpkin pie with tender, flaky crust made from scratch. But save yourself the labor and try these two Thanksgiving treats:
Drink the flavors of your favorite Fall treat. This tea is the perfect combination of black tea with pumpkin, cinnamon and other spices.
Pumpkin Cookie Cream (See Here) 
Think of a pumpkin whoopie pie. This delicious tea is a combination of black tea and rooibos with pumpkin, cream and fall spices. Lower caffeine than traditional black blend.
Premium Steap also offers additional fall inspired mixtures:
Maple Toffee Rooibos (See Here)
Perfect cozy tea for fall. Blend of rooibos, honey, chocolate and toffee. Good with milk.
Gingerbread Latte Rooibos (See Here)
A delicious blend right in time for the holiday season. A unique mix of rooibos, cinnamon, ginger, pineapple, and maple bits.
Preparing for holiday gatherings can be stressful, but it doesn't have to be. Try our soothing fall teas to get a taste of classic fall treats! We are sure you will fall in love.