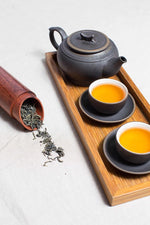 Every spring, we get excited for latest Chinese teas to be harvested, and this year did not disappoint! We have featured our favorite herbal teas for the spring, and China produces some delicious green and oolong teas every spring harvest. They have some pretty unique flavors, and this year, we especially love Organic Lu An Gua Pian and Jade Tie Guan Yin.
Organic Lu An Gua Pian
Emperors in China have been drinking Lu An Gua Pian since the Tang Dynasty—and for good reason! Lu An Gua Pian is a smooth green tea rich in flavor, and it has won many awards. Its flavor can vary depending on the soil the leaves were grown in, but it tends to be sweet with some floral notes. Unlike most other Chinese green teas, Lu An Gua Pian is made with only tea leaves and no buds. The dried leaves are long and narrow and look similar to melon seeds, so Lu An Gua Pian is often called Little Melon Seed tea.
We have this spring's Organic Lu An Gua Pian stocked up if you want to give it a try—it's our #1 selling green tea!
Jade Tie Guan Yin
Jade Tie Guan Yin is an oolong tea famously known as the "Iron Goddess of Mercy" and the "tea of poets." It didn't start being harvested until the 1990s, but it has become world renowned in this short time, and we're oh-so-glad it did.
Jade Tie Guan Yin is known for its fruity and honey notes, and it has a lovely orchid fragrance! The leaves can be steeped multiple times, and the flavor stays just as strong as the first steep. The tea leaves are harvested in the autumn, too, and that tea is simply called Tie Guan Yin. No matter which season they're harvested, both types of tea have wonderful flavors! We have this year's wonderful Jade Tie Guan Yin in stock, so check it out if you're in the mood for something a little different.
Whether you're at the beach or watching the sun set on your porch, the sweet Lu An Gua Pian and fruity Jade Tie Guan Yin are perfect flavors to enjoy this summer. Order a sample online or stop by our Center City location and give these new Chinese teas a try!