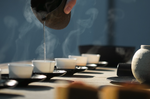 Happy New Year! While some have already started working towards their resolutions and goals, the Chinese New Year kicks off January 25th, 2020. For those that celebrate, you'll be partaking in traditions like exchanging red envelopes filled with money, lantern lightings and of course tea! The sipping of tea for the Chinese New Year has been a symbol of good luck for years! But the kind of tea that you have on Chinese New Year carries a specific meaning. To help you prepare for your Chinese New Year teas, we have broken down a simple guide for selecting the perfect tea for your annual tradition. 
Tea Selection 
The type of tea commonly used during Chinese New Year, are black and oolongs teas. Roasted oolong tea is great since it has a warming quality. The tastes of most selections of black oolongs teas blend well with these candied fruits. 
Tea Suggestions
Tea Additions
The tea is obviously important but it's often accompanied by a simple selection of nuts, melon seeds, and dried fruits. Options include candied carrots, candied shredded coconut, or candied winter melon. Each fruit or vegetable has its own meaning and purpose.
For more information on tea etiquette and tea selection during Chinese New Year read
here
.