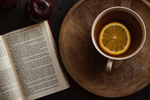 It's back to school time! And for those that are doing back to school shopping, have you thought about one essential supply? Yeah, pens, paper, and notebooks are important, but how will you stay alert and quenched? There's nothing more comforting than having a cup of tea. You may think that bringing tea on the go is time-consuming and a hassle, but it doesn't have to be. We have listed some of the best teaware and ideas to enjoy your tea on the go.
Carry Small Tea Containers
To avoid carrying your whole bag of tea, put your tea inside of a mini canister to make sure your tea is fresh but portable at the same time. 
Prefill Tea Bag
Before you head off on your commute, prefill your tea bag with your loose leaf tea for the day. This way, when you get to your destination, all you have to do is steep and enjoy. Saves time, space and mess. We offer bleach-free tea filter bags online. 
Tea Vacuum Thermos
After you leave your house in the morning, you want to make sure your tea stays hot or cold for as long as possible. With vacuum insulated thermos, they can keep your drinks hot, cold & fresh for hours. Our thermos comes in various sizes and shapes, which makes it convenient to carry in your purse or backpack. Check out our On The Go Thermos.
Portable Tea Set
You can't take your teapot to work with you… or you can? Teaware has become so innovative that you can now take your teapot and cup on the go jointly. We offer a Tea For One tea set that stacks a teapot and teacup together making it easy for you to get the tea you are used to making at home, at your work desk. 
Mugs
You may be thinking that mugs are too much of a hassle when it comes to working and especially school. But by eliminating the task of carrying an infuser, our Essential Brew In Mug gives you a built-in infuser to make making tea simple. Use the hot water from the office coffee machine for steeping.
What teaware do you find easiest to use on the go? We only listed a few ways to enjoy teaware on the go, but there is so many more teaware you can use to make enjoying tea at work and school easier. Explore our full teaware collection by visiting our online store. Have fun steaping and studying!