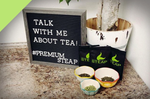 Premium Steap recently had the pleasure to collaborate with Iris Deanna; mother, wife, gut health enthusiast, Alaska settler and host of her weekly Tea Talk Tuesday tea review on Instagram (IG TV). For 5 minutes, she chatted and shared her feelings on a few of our teas and we want to share her thoughts below.
From the moment you open up the package you can tell that Premium Steap has quality product and takes care of their customers. Their packaging is dark and sealed well, letting me know that the tea I am about to enjoy has been preserved from any moisture or UV damage. I know I'll be sipping from tea that has its flavor fully intact.

I had the pleasure of trying 3 different teas from Premium Steap, the Jasmine Yin Hao, the Kombucha Plum and the Genmai Matcha. From the label and the initial smell of each tea I thought I'd favor the Kombucha Plum, I really enjoy Kombucha, and I could instantly smell the plum and fragrance of Kombucha, so I was excited. But I was pleasantly surprised that I found myself craving the Jasmine Yin Hao all week! Don't get me wrong, all 3 teas were actually quite tasty, but it was fun to expand my palate and enjoy something unexpected.  

The Kombucha Plum is lovely, like I said deep plum smell, instantly sweet and pleasant. I steeped my tea for the recommended 2-3 minutes and tasted it with no sweetener. It's lovely, and enjoyable without sweetener, but I like to add just a touch of raw sugar. This brings out different notes of the tea and made it a perfect dessert type tea. This would have been excellent chilled, as well!

The Jasmine Yin Hao is like stepping into a garden of jasmine. It transports you instantly, and I love that about quality tea! I steeped my tea for the recommended 2 minutes, tasted it with no sweetener and really liked it! I added some raw sugar too, so I could see what notes were highlighted with sweetener and it is lovely both ways, sweetened and unsweetened. I came back to this tea nearly every evening and thoroughly enjoyed even leaving my tea bag in my mug for a stronger jasmine taste!

The Genmai-Matcha really surprised me. The smell is not at all sweet, quite the opposite, more earthy. As I steeped my tea for the recommended 60 seconds and tasted it without sweetener I was so surprised how much I enjoyed it! I added just a touch of sweetener and found myself sipping and sipping. It felt like I was enjoying a bowl of amazing popcorn! I know that sounds funny, but it was savory and satisfying. Quite a lovely experience!

This brings me to two of my favorite things about tea, and I think Premium Steap highlights the first thing well on their website.

Tea takes you on a journey, you can travel to far away lands and have lovely experiences by simply pouring bowling hot water over quality tea. As you settle in to your favorite spot, draw your mug close and take those first few sips you can instantly be transported and you can travel with tea!

The other thing I love about tea is, not only does it have great health benefits, but it can help you with cravings! Do you crave something sweet? Try the Kombucha Plum or Jasmine Yin Hao. Do you crave something savory? Try the Genmai-Matcha! Instead of eating a bag of potato chips, or a candy bar, pour yourself a cup of tea, and make it Premium Steap!

I have thoroughly enjoyed taste testing Premium Steap tea and I look forward to ordering and trying more flavors!

~Iris
Follow Iris and Tea Talk Tuesday on her social media and website below.
Instagram:
iris.deanna.smile
Facebook: Iris Deanna
http://irisdeanna.com/