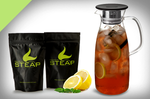 Stay hydrated this summer in the most delicious way! Premium Steap Tea has some new summer blends, perfect for a day in the sun. With the heat of summer in full swing and we can't get enough of everything icy and refreshing, especially tea! Don't be intimidated by making iced tea at home, especially using loose leaf teas. There are many ways to brew iced tea yourself, but have you ever considered using a little help from the sun?
Let the natural heat of the summer sun brew your tea for you! This method is called the Sun Tea Method and is stovetop-free! Just like the tea your mom used to make, but with flavorful loose leaf teas from Premium Steap. Unlike boiling tea over your stove, this process is a slower infusion so the herbs or tea have more time to interact with the water, releasing their flavor more slowly and less forceful.
To prepare, simply fill an iced tea pitcher (you can find some pitcher options here) or a large mason jar. Use 1 tablespoon of tea for every 1 cup of water. Cover your pitcher or jar and set it outside in the sun or inside in a well lit spot by the window and steap for 3 to 4 hours. Steap time can vary and depend upon how sunny it is outside. Strain and serve over ice with your favorite sweetener for added sweetness and enjoy!
We hope you're staying cool this summer with some delicious iced teas. For help in finding the right brew for your sun tea, explore our website at
www.premiumsteap.com
.