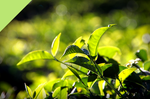 India is known for its spices, and our NEW Spring Indian teas are a reflection of the finest Indian leaves, spices and aroma!  Popular teas such as Darjeeling and Assam are cultivated in India, and with Premium Steaps loose leaf tea, you can count on a perfect cup of authentic quality true to its origin every time. See below to check out what is new from the east!
Assam
Assam is the largest tea-growing region in India. It is home to India's indigenous, wild-growing tea plant variety, Camillia sinensis assamica. The Assam region is mainly known for its production of black tea. Assam black tea has a hearty, bold flavor that is drinkable on its own but also great with milk and sugar.
New Indian Assam teas:
Basmatia TGFOP1 (CL) GOLD TIPPED
Darjeeling
Darjeeling is located in the state of West Bengal in eastern The tea crops of Darjeeling may vary from year to year depending on the weather, soil conditions, and accessibility to the unique and varying mountain terrain where the bushes grow. Darjeeling tea is grown, cultivated, produced, manufactured, and processed in tea gardens of the Darjeeling region. Darjeeling teas differ from Assam as Darjeeling is traditionally processed but never allowed to fully oxidize.
New Indian Darjeeling teas:
Organic Darjeeling Jungpana First Flush FTGFOP1
Organic Jungpana Second Flush FTGFOP1 (MUSCATEL)