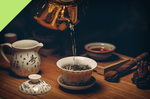 Let's start with the basics. Whether you are new to loose leaf tea or have been steeping for a while, let's review the proper way to steep loose leaf teas. Our guide will show you the proper tools, time and temperature to get the perfect cup of Premium Steap Tea!
Let's get started!
Step 1: Select Your Loose Leaf Tea
Decisions, decisions...This step will be the hardest when choosing from Premium Steaps variety of exotic loose leaf teas. Black tea, green tea, rooibos, oolong, white, or herbal? You can explore our teas on our site or purchase a sampler to try a variety of teas at once.
Step 2: Tea Tools
Decide on how you'd like to brew your tea, either by using a tea infuser, paper filter, tea strainer, tea kettle or even a tea infuser travel thermo if you are on-the-go. Whichever tool you decide to use, make sure you wash it thoroughly before use. To see more of our tea tools see here.
Step 3: Hot, Hot, Hot!
It's time to heat things up! Heat fresh water in a tea kettle. Don't be lazy and microwave your cup of water. Microwaving causes a breakdown of the water molecules makes the tea taste flat.
Step 4: Measure Your Tea
Determine how many cups of tea you would like to brew. Remember the general rule of thumb of one teaspoon per cup of tea. But specific instructions for all of our teas are listed on each package. All instructions are based on an 8oz. cup so you'll have to adjust the amount of tea you use to the size of the mug or teapot you are using.
Step 5: Steep Time & Temperature
Pour in your water over the leaves. Make sure the tea infuser is fully submerged in the water so your tea leaves can properly expand. Steep according to directions on the package. Water temperature as well as steeping times vary by type of tea. For a general list of tea time and temperatures, see below:
Black Tea: 3-5 minutes @ 212°F
Oolong Tea: 3 minutes @ 190-200°F
Green Tea: 2 minutes @ 140-180°F
White Tea: 2 minutes @ 180°F
Herbal/Rooibos Tea: 7-10 minutes @ 212°F
Step 6: Enjoy!
Remove the infuser after your tea is done steeping. Keep in mind that oolong teas, green teas, and white teas can be used for multiple infusions. As you brew tea more often, you'll begin to experiment with the quantity, temperature, and steep time in order to brew a cup that suites your taste.
Sip your tea and add any additional sweeteners or milk if needed!
Steep, Sip and then Repeat!