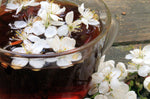 Floral teas offer a wide range of health benefits because flowers are packed with natural compounds, vitamins, antioxidants, and minerals. People drink floral teas to improve their overall health and wellbeing, making flower-based teas an essential part of a holistic health approach. 
Various floral teas include chamomile, lavender, rose, hibiscus, and jasmine, blooming, chrysanthemum, and linden flower teas. Health professionals and dietician's recommend drinking at least one cup of delicious steeped floral tea. In today's article, we will discuss a step-by-step process to steep flower teas. Read on! 
Lavender Tea 
A 2015 research study shows that lavender tea improves your mood and reduces symptoms of fatigue, depression, and anxiety. It also enhances your sleep quality, soothes menstrual cramping, and rejuvenates your skin. 
Rose Tea
One study shows that rose tea has excellent anti-inflammatory properties that can reduce discomfort and painful symptoms associated with menstrual cycles, spinal disorders, and bloating. Rose tea is also beneficial for people with major depressive disorders, such as stress, anxiety, bipolar disorder, etc. 
Chamomile Tea 
Research studies have highlighted various benefits of floral teas. For instance, A 2019 research study published on NCBI concludes that chamomile tea reduces menstrual pain, lowers blood sugar levels, prevents osteoporosis, improves sleep quality, and reduces inflammation. Some studies show that chamomile tea can also help ease symptoms of cancer. 
Hibiscus Tea 
If you suffer from high blood pressure and don't want to take medications, hibiscus tea is an excellent option to reduce hypertension naturally. A growing body of research evidence shows that hibiscus tea lowers hypertension, reduces blood glucose levels, eases menstrual cramps, keeps the liver healthy, and burns extra fats with its excellent laxative, flavonoids, anti-inflammatory, and antioxidant properties. 
Linden Flower Tea 
Linden flower has excellent anti-inflammatory properties to reduce mild-to-moderate pain. It also has dietetic effects, improves mood, promotes sleep, soothes the digestive tract, and lowers blood pressure. Bear in mind that frequent use of linden tea can cause allergic reactions and increase the risk of cardiovascular conditions.
Steeping Floral Teas – Step by Step Process 
Before you start the steeping process, it is essential to make available all the necessary materials, tools, and equipment. You will need a large tea kettle or pot to boil water. Steeping a floral tea requires you to have at least 4-5 cups of water and one flower. 
Experts recommend a clear mug made of borosilicate glass for steeping your floral tea. However, you can also use a tempered glass pitcher or a glass teapot with heat resistance properties. Besides, if you want to achieve the best flavor, make sure you have 1,200 ml or 40 oz. teapot. 
Avoid using a teapot with a large volume capacity to prevent the floating of your floral tea. Otherwise, you may not achieve the best flavor. Here are the steps to steep your floral tea. Continue reading! 
Step 1: 
You can get the flower from your garden or buy a sealed product at your local grocery store. If you have purchased the flower, the first step is to remove the flower from its sealed packaging and place it in an empty glass teapot or mug. 
Step 2: 
Pour at least 4-5 glasses of fresh water in a kettle or pot and boil it at 180 degrees Fahrenheit. The temperature must not exceed 180 degrees because it will deplete oxygen in the water, making it challenging to extract flavor from the flower.  
Step 3: 
Place the flower in the mug or teapot and pour the water into it. Make sure you pour it four inches above the flower, allowing the flower to bloom fully. Wait for at least 5-10 minutes so that the flower spread out in the water. At the same time, keep stirring the tea gently to extract the flavor and distribute it evenly in the water. 
Step 4: 
Pour your floral tea into the mug directly if you use a glass pot. You can also add some sugar to the tea to enhance its flavor. However, if you want to reap full benefits, we recommend avoiding sugar or sweeteners. Moreover, remove the hot tea carefully if you have steeped it in the mug. 
Final Words 
Floral teas not only taste delicious, but they also offer various physical and mental health benefits. It is crucial to steep your floral tea the right way by following the steps given above.