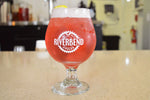 Summer means being active and getting outdoors. But being active comes with the need to stay hydrated. Luckily, on your next cycling trek or morning jog, you can stop by Cafe at Riverbend to pick up a refreshing glass of iced tea or get one of our classic brews! They recently opened a new location May 1st at 2 Harry St. in Conshohocken, PA right off of the Schuylkill River Trail and across the street from the Manayunk/Norristown Regional Rail Line. This makes it easy to stop in before or after your commute to start or end your day. The cafe has everything from pastries, bagels, breakfast, coffee and most importantly - Premium Steap teas!
It's summer, and Cafe at Riverbend takes that into consideration when planning their selection of beverages. A nice brew or cup of joe is nice, but after cycling or running for a few hours, it's important to quench your thirst. Using some of our most popular herbal teas, Cafe at Riverbend has stirred up our most refreshing iced teas ready for you to drink after your next workout.
Our Blood Orange Pear is an excellent caffeine free herbal tea (pictured below). Customize this tea for your liking, with lemon, sugar or even a hint of honey.
(Blood Orange Pear Iced Tea)
Other Premium Steap teas that are available at Cafe at Riverbend include; English Breakfast, Masala Chai, Earl Grey, Organic Gunpowder, Moroccan Mint, Chamomile and Organic Ginger Lemongrass and more!
Cafe at Riverbend offers a lot more than teas. The exterior of the newly renovated building offers patio seating for a nice outdoor eating experience. The interior has a number of tables and chairs and even two couches towards the back of the cafe for seating. Behind the large checkout counter is their friendly staff members who are ready to brew, steap or make your next cup or dish.

(Friendly Cafe Staff: Auggie/left, Ashleigh/right)
You may be familiar with Cafe at Riverbend's other location at 1 Station Ave, also in Conshohocken. This location holds not only a cafe but a bike shop as well. Cyclists on the Schuylkill River Trail can conveniently go to the bike shop for service, repairs and refreshments. Their cafe takes the term "pit stop" to another level.
Whatever location you decide to visit, you won't go wrong. Their recent expansion is proof of its popularity with cyclists, commuters, kayakers, runner and tea drinkers. Believe us, it's worth the trek to treat your taste buds and give your bike the TLC it deserves.
Visit the new Cafe Riverbend at 2 Harry St in Conshohocken, PA. To view their menu and more of what they have to offer, visit their website at https://www.cafeatriverbend.com/.
Hours listed below:
Weekdays: 7AM-7PM (Closes at 6PM Wednesday)
Weekends: 9AM-3PM