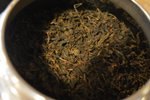 Thanksgiving is almost here. As the days narrow down until the big meal, people will be scrambling to prepare their perfect dinner menu. This year's dinner will most likely include traditional favorites like turkey, macaroni and cheese, stuffing, sweet potato pie, pumpkin pie, etc.. The Thanksgiving table is a thing of pride, a showpiece, and focal point of the holiday celebrations. So among the traditional foods on the table, how about making room for some tea? Add a little pizzazz to your Thanksgiving table and check out our teas:
Drink the flavors of your favorite Fall treat. Goodbye pumpkin pie, and hello pumpkin pie tea. This black tea is blended with pumpkin, cinnamon and other spices to mimic the real deal. Place this on your Thanksgiving table and people wouldn't even know the difference.
This black creamy blend with fall spices will make all the difference on Thanksgiving. It's often to focus on the dinner more than dessert. Along with your pie or cake, give your family and friends the perfect latte. This tea is also great with milk!
You remember your grandmother's best apple pie? We use the same combination of apples, cinnamon and a hint of almonds to replicate this nostalgic treat.
Whatever is on your menu, this year you should definitely include a Tea or two to complement what I know is going to be a fabulous meal and experience. From Premium Steap to your family, we wish you a great dinner and some lovely tea. Enjoy!