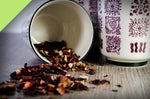 There are many reason to drink tea. And even more reasons to drink Premium Steap tea. But to give you just five reasons, we have listed them below. You may be surprised that there are many benefits to drinking our tea besides the taste.
Flavor
Most tea lovers drink tea for its taste! And Premium Steap offers a variety of flavors to choose from. Tea choices range from dark, solid flavors to those with a bright, fruity taste. We offer hundreds of different tea blends and combinations and we are sure you will find a taste you enjoy. And we include free tea samples with all online orders to make discovering a new favorite easier!
Best Tea To Fit Your Budget
You shouldn't have to go broke buying quality tea. You can get quality tea without putting a dent in your pocket. We offer reasonably priced teas that are a steal for the level of quality our teas possess. And savings don't stop there. From time to time, we hold sales sales and discounts! Sometimes our sales are for a limited time or limited quantity. You want to make sure you are the first to be informed to receive the discount so make sure to subscribe to our newsletter!
More Options
Premium Steap offers an unlimited variety of tea options so that our customers are not limited in their choices. Not only do we have a range in categories from Rooibos, Black, Green Oolong Herbal, White and Chai, but we go further to make sure all of our customers needs are met. Caffeine or no Caffeine? Organic or non-organic? We go out of our way to honor all of our customers preferences.
In-Store Smell Test (Try Before You Buy)
Buying tea can be a non-transparent task. If you buy it from the market, most teas are bagged and boxed, leaving you to guess how good the tea smells and tastes. But with Premium Steap you and your next favorite blend can make a proper introduction. When you come in store and open one of our tea canisters or pack of new tea, you will be greeted with the teas natural aroma and be able to decide more quickly what is the best tea for you.
More Usage
You can get the most out of our 2oz, 4oz and 8oz bags of tea. Generally, loose tea leaves can be reused for 3-4 times, while retaining the same flavour and aroma.
We could go on and on, but we think you got the point. As you can see, the tea offered by Premium Steap is one of the best around. Your next cup is going to be the best cup because of these and the other benefits that we offer to you. Check out our tea by visiting our website at www.premiumsteap.com.